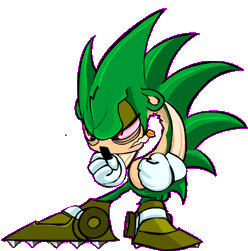 So in honor of being one year closer to that inevitable handshake with our friend Mr. Reaper, I am uploading free to use (public domain) sprites over at opengameart.org  Why wait till we are completely dead to give away our treasures anyway? Youre dead. You can't enjoy the satifaction you get from generousity when you're in the etherealm. So I say birthdays should be for gift giving! Anyways..
                These are the sprites from the old Pixel Puncher Prototype that Tom and I started about a decade ago. Tom was gracious enough to let his creations run free ,so I took a day or two to convert them into png files. I exported them at twice the size just in case anyone needed them bigger. If you dont though, its easy enough to simply run them through photoshop . We both put a lot of love and thought into these sprites so hopefully there will be some appreciative coders out there that will put them into some sweet projects or demos. Heres a longer demo of some of the levels and animation
If you have an NG supporter badge you can actually try the unfinished demo yourself here
                                     There's some pixel art in the video that was placeholder art and will not be part of the download. Its pretty obvious but I thought I'd mention it. While the video just show combat, and a few juggles. I believe Tom wanted a Metroidvania type game where you explored and unlocked more attacks and abilities. Ram (the main player) aquires "Chronic's" run ability which  is shown early on.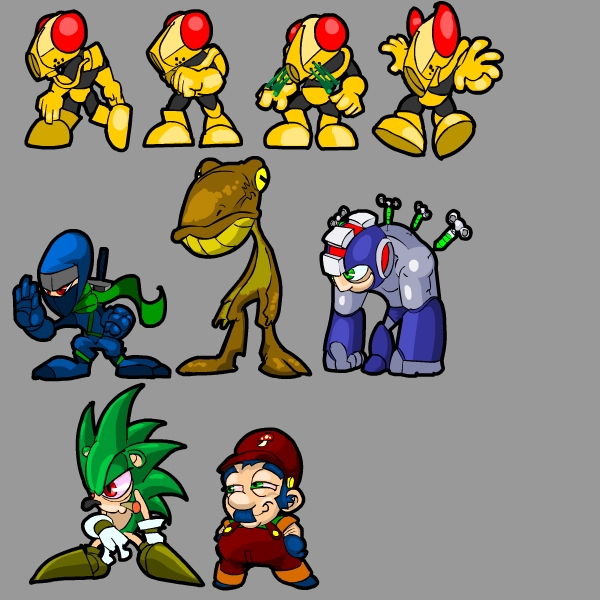 Each level would have been a parody of known game characters. The first world based, on Sonic, second Mario and so on.
I also wanted more puzzle elements that involved carefully timing your air combos and grabs. Back then there wasnt any game ideas like it, so it was hard to get a grasp of how we wanted it to play. Fast foward to today, and  games like "Guacamole" and "DustForce" I believe totally captures what we wanted this game to be. You know what they say, hind sight , 20/20 etc.  A shout out to LDUK whos Robotniks Revenge just hit all the right notes for me. It was cool yet oddly bittersweet , which fit the vid. Also I just want to say thanks again, to everyone thats ever dug my stuff and shot me a kind text. It really does mean alot. And thanks Tom for letting our babies fly :3 I have to get up in 4 hours... gnight